Broadcast Chief, Community Leader and Philanthropist H.R. Shah Receives 2005 Ellis Island Medal of Honor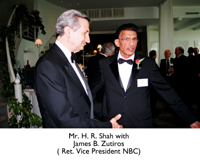 Renowned Indian American Broadcast Chief, Entrepreneur, Community Leader and Philanthropist H.R. Shah received the prestigious 2005 Ellis Island Medal of Honor on May 14, 2005 at a glittering ceremony, full of military pomp and pageantry.
Shah was among ninety distinguished Americans to be honored at the Gateway to U.S. Immigration, Ellis Island, for their significant contributions to their own communities and to the United States at large. He was one of only three Indian Americans honored among a total of 97 honorees. The other two are Dr. Sudhir Parikh, current President of the New York Tri-State Federation of Indian Associations and Parveen Chopra, a professor and community activist. Shah and Chopra are both also past presidents of the FIA.
Shah was the only Indian American and one of only seven medallists invited to address the gathering. He and the six others were also the only ones to be welcomed by a full military band. His name will be permanently engraved in stone on Ellis Island.
Shah, a recipient of more than two hundred awards of recognition described his latest, the Ellis Island Medal of Honor, as a particularly special honor.
Shah was the only Indian American and one of only seven medallists invited to address the gathering. He and the six others were also the only ones to be welcomed by a full military band. His name will be permanently engraved in stone on Ellis Island.
---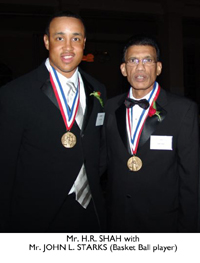 Soon after receiving his medal, Shah addressed the gathering. "I am very happy and proud to receive this award on behalf of myself, two million Asian Indians who live in America and also over one billion people who live in India."
He then went on to illustrate his success in the convenience food store business. "Now let me give you one example. Fifteen years ago, I acquired over 300 convenience stores from Bankruptcy Court in New Jersey known as Krauszer's. I saved 1,300 jobs.
"At the time a news reporter asked me why Asian Indians were buying convenience stores or candy stores? I responded by saying Italians were known for their pizza parlors, Greeks for their diners, Koreans for their dry-cleaning stores. In the same way, the first generations of Indians here were into the convenience store business.
"I then went on to tell him that the convenience store business is recession-free. Everyone needs bread, milk, newspapers or even cigarettes."
---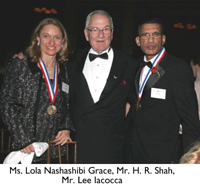 Shah then had the audience in peels of laughter when he added: "I also told the reporter if people are unemployed they will buy more newspapers and smoke more cigarettes!"
He added: "Generally, all merchandise is returnable, skilled labor is not required, you only have to work long hours, when you work long hours you make more money, you don't have time to spend money, which means you save money, and if your English is poor, that's okay because all you have to say is the price, good morning, good evening, good night, how are you and thank you!"
Shah concluded his address by saying "America is a great land of opportunities. God Bless America."
Just before speaking at the May 14 Gala, H. R. Shah said to the evening's co-emcee, comedian Thomas Dreesen, also an honoree, that his English wasn't that good. But after he finished speaking, Dreesen remarked: "Every one of our ancesters who came to those country at one time probably said the same thing….Gee, my English isn't that good. But how many of us can go to another country, like India, and learn that language, then become a leader of that country and then get an award from that country? Mr. Shah, you are truly remarkable!"
---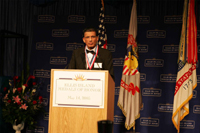 The comment drew thunderous applause from the specially invited gathering of distinguished Americans.
One of the keynote speeches was delivered by renowned entrepreneur and former Chrysler Corporation Chairman Lee A. Iacocca, who paid rich tributes to the Chairman of the National Ethnic Coalition of Organizations, creators of the awards, William Denis Fugazy.
Among the other illustrious honorees were popular actress, director and producer Penny Marshall, Comedian Thomas Dreesen, veteran U.S. diplomat Robert Weisberg, Chairperson for the Board of Governors for the American Red Cross Bonnie McElveen-Hunter, former NBA star John L. Starks, Renowned Australian personality Richard Pratt and U.S. Labor Secretary Elaine L. Chao. Also honored was Nicholas A. Buoniconti, Founder of the Miami Project to Cure Paralysis, a former All-Star Football player, whose son was paralyzed as a result of an injury suffered in the game. Buoniconti announced during the awards ceremonies that he had raised $180 million dollars for his institute.
The Ellis Island Medal of Honor was created in 1986 to honor the many ancestral groups who through, struggle, sacrifice and success, help build the great nation of the United States of America. Six presidents, several Senators and Congressmen and Nobel Prize winners are among the remarkable group of individuals to receive the honor for their outstanding contributions to America. Honorees include leaders of industry, gifted artists, performers and athletes.
---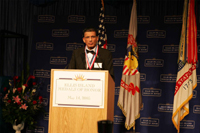 The Ellis Island Medals of Honor are presented at a Gala event each May on Ellis Island and is hosted by the National Ethnic Coalition of Organizations, whose current Chairman is William Denis Fugazy and whose Executive Director is Rosemarie Taglione.
The U.S. House of Representatives and the Senate both unanimously passed resolutions sanctioning NECO and the Ellis Island Medals of Honor. Each honoree is listed in the Congressional Record.
H.R. Shah, Chairman & CEO of TV ASIA and Krauszer's National Food Stores chain, has the distinction of providing decades of service and support to the Indian American community, to the American entrepreneurial spirit, to political empowerment of ethnic communities, to culture, philanthropy and mainstream American society as a whole.
He has led virtually every major Indian American organization in North America, including the Federation of Indian Associations, the Indian American Community, U.S. and the U.S. India Political Action Committee.
---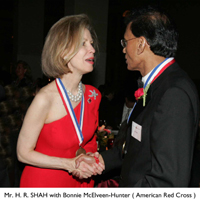 He has also served on the business forum of the Democratic National Committee.
Shah is the undisputed pioneer and the pride of ethnic communities in the field of Television Broadcasting and the convenience food store chain business.
He acquired the nation's first coast-to-coast, 24-hour television network for South Asians, TV ASIA, in 1997 from one of the world's best-loved movie stars, Amitabh Bachchan. With his backing and resources, the network has become the premier ethnic network of its kind in North America. TV ASIA is responsible for bringing greater awareness about the achievements and successes of ethnic communities through its programming that specifically highlights ethnic groups.
A turnaround expert, he became prominent in business circles for rescuing Krauszer's, New Jersey's largest chain with 400 convenience stores, in 1991. He took over the firm that year and through his keen entrepreneurial skills brought the stores renewed statewide recognition, saving more than a thousand jobs and putting hundreds of ethnic Americans in the convenience store business.
---
Shah is a Founding Sponsor of the Asian American Hotel Owners' Association. AAHOA now owns nearly 40% of the hospitality industry in the United States. His support for the industry includes granting educational scholarships in Hotel Management.
In December 2004, he became Chairman of the first-ever Non-Resident Indian (NRI) TV Film Awards, honoring ethnic producers and directors for their exemplary creativity in making films, the first time this has happened anywhere in the world.
He is chairman and trustee for many religious organizations and is Founder-Trustee of Vraj Bhumi in Pennsylvania.
H.R. Shah is a major supporter of worthy causes and has backed, among many others, Share and Care Foundation, Nargis Dutt Memorial Foundation, United Way, Middlesex County College (NJ) and the Cancer Care Foundation. He is a Director and Trustee of Bharatiya Vidya Bhavan, the well known institute of Indian culture and education, which has named its main auditorium in memory of his late daughter Romanti Auditorium.
His philanthropy toward charitable causes and his financial support for numerous ethnic associations is well known for decades.